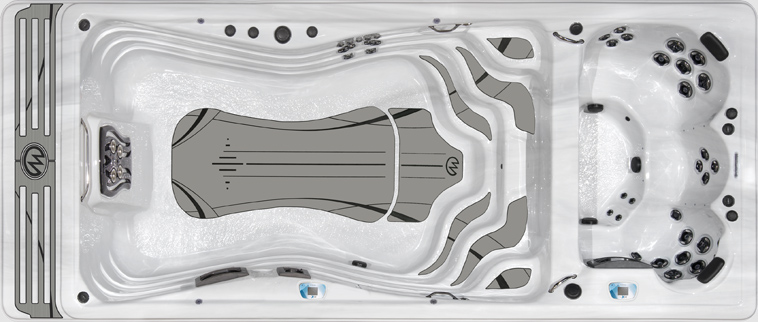 Trainer 19 Deep
Jetted Swim and Fitness Spa
The Trainer 19D is the deepest dual temperature model in the H2X line. It features 2 separate bodies of water: one for the perfect warm hot tub experience of relaxation and hydrotherapy, and one for the cooler exercise/pool experience. Its 5 ft. depth provides increased buoyancy and endless options for family fun.
Dimensions
231" x 94" x 60"
(587cm x 239cm x 152cm)
Water Capacity
2,285 Gallons (8,650 L)
Weight Dry/Full
3,215 lbs. (1,458 kg)
23,385 lbs. (10,605 kg)
Propulsion System
VIP Technology
Power Requirement
100 Amp System
Pumps
4
Stainless Steel Jets
48 (Including 4 VIP Jets)
Waterfalls
5
Ozone System
Standard
Filtration
EcoPur®
LED Lighting
Waterline
Exclusive Features
Noise Reduction System
Accessories
H2Xercise System*
*Free with warranty registration of your spa
Shell Colors


Standard Duramaster II Ultra Poly Skirting


Premium Options
SoftTread™ Nonslip, Comfort Floor System by SeaDek®: This system provides better grip, traction, and comfort on both the steps and the floor of the swim spa, making our swim spas as safe and easy as possible to use, whether getting in, out, or exercising. SoftTread™ is an available option on all models.
The Deluxe Fusion Touch Sound System: This system includes four interior water resistant speakers and a subwoofer to maximize the sound quality. The Fusion Touch Sound System connects quickly and easily through the Bluetooth of your phone or other device allowing you to stream your favorite station or playlist.
Wi-Fi Module: Remotely control the operations of your spa via an optional integrated Wi-Fi module that works with the spa control app
Mast3rPur™ Water Management System: This water management system is a synergistic blend of three proven natural water sanitizers that when combined makes them dramatically more effective through a chemical reaction known as Advanced Oxidation Process. This results in clean, clear, fresh smelling, and silkier water. The Mast3rPur™ option comes equipped with the QuietFlo Water Care System, a 24-hour circulation pump.
Ask your dealer about these accessories
Deluxe Quad-Fold Tapered Cover available in Slate Brown or Charcoal
Stainless Steel Exercise Bike
Stainless Steel Treadmill
Like what you see?
We make it easy to get your very own Swim Spa